Cabo San Lucas, California Baja Sur - MEXICO
by Mirella
(Toronto, Ontario Canada)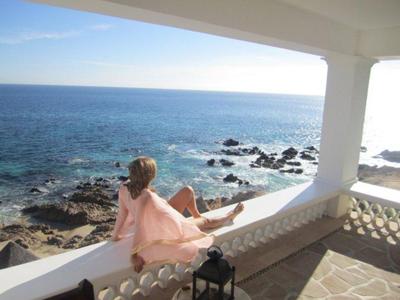 Paradise in Cabo
My sister in law and I just got back from a one week ALL INCLUSIVE trip to Cabo San Lucas, Mexico. I have been to many places around the world and must say this place tops it all!! The weather, the people, the beaches, the food - just everything was perfect! I loved this beach resort because even though I was in Mexico, It felt as if I were in Spain! The beautiful mountains surrounding the ocean was spectacular! Just by sitting along the beach and looking ahead into the ocean, you are able to see the whales and dolphins. We stayed at the RIU SANTA FE and cannot tell you what a beautiful hotel chain this is! The food was amazing with different theme nights every single night. Buffet included so many different types of food and everything was sooo good! You will definetely put on a few pounds by staying at this resort, and all worth it!! The Italian Restaurant was Number 1 and very authentic!! There are many Mexicans on the beach selling things but are very friendly and will not harass you if you reject them, they are very nice and will wish you a good day even if you walk away.

Downtown Los Cabos is stupendous!! Their downtown Marina reminded me of being in Monaco, France for how beautiful the scenery was!! A must see!!!

All in all, great vacation spot and great price too, very very worth it!!!