Family Beach Vacations in South East Florida
The South East Florida Beaches have an abundance of Beach-Therapy to offer especially for family beach vacations. If you are looking for a lower cost alternative to international travel, south east Florida is an ideal choice. The area we visited this year centered on our timeshare trade to Ft. Lauderdale, Florida and the beaches within a 20 minute drive. We did not visit Miami Beach this time or travel as far north as West Palm as these areas are not as appealing for a family beach vacations but are great choices for romantic beach vacations or girlfriend getaways to the beach.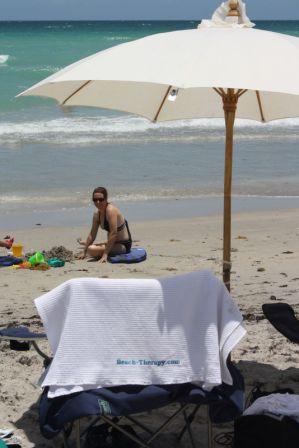 What did I enjoy the most about the South East Florida Beaches? The sea breeze! As much as I love the Gulf Coast I have to say that the eternal breeze on the Atlantic side was a blessing in the 95 degree heat of late June in Florida. I love the heat having been raised in south Louisiana, but my husband and children do not. I was prepared for many complaints but the perpetual breeze kept us comfortable all week long.
In general the water was a lovely aqua blue, although even on the clearest day it is not as crystal clear as the Caribbean, it does come very, very close. The sandy beaches are soft, wide, and clean; made for long walks up and down an almost continuous stretch that is only broken by imaginary lines in the sand between townships. There is some very important public access information you should know if you plan to beach hop this area the way we did. I also provide valuable information on making an informed choice before you choose which beach to call your home base so read each review for our beach therapy recommendations for the best places to plan your family beach vacations.
The intercoastal waterway in the Ft. Lauderdale area is an amazing interstate for yachts and fishing boats to access the open ocean and is a unique feature of the area as are opportunities to glimpse a manatee in a mangrove preserve. Read more on those dedicated pages.

Ft Lauderdale Beaches

John U. Lloyd State Park

Deerfield Beach Florida

While you're at it, you can also print a few free beach coloring pages to take with you or learn how to take more family beach vacations like we do. Enjoy!
Beach Coloring Pages Easy

Beach Coloring Page Hard