Beach Wedding Planning can be fun, if you keep it simple!
Beach weddings are becoming increasingly more popular. Many of today's couples see traditional church weddings as stuffy and old-fashioned (as well as expensive). At the same time a Las Vegas style wedding with an Elvis impersonator in charge seems kind of cheap and unemotional. Linn Campbell of A Beachside Wedding tells me that planning a wedding is always going to be somewhat stressful, but thinks you will find beach wedding planning can be pleasantly less stressful than a traditional wedding, if you take a few things under consideration.
Sidenote: Did you know that many new cars cost less than a traditional wedding!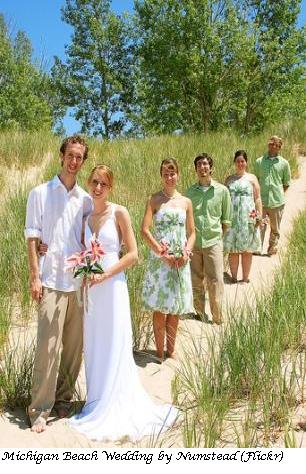 A destination wedding is a great alternative for many couples, and the allure of a romantic beach is undeniable. This choice makes it possible to combine the wedding, the reception, and the honeymoon all into one package. And as a bonus, a destination wedding will typically cost thousands less than traditional church and tuxedo, reception at a hotel, and mediocre appetizers for dinner event.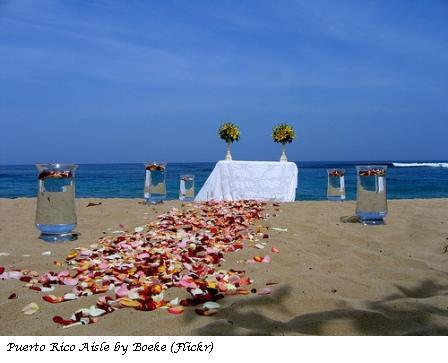 Beach destination weddings are also very popular for second or third marriages. It can really be a vacation for the whole family, and the renewing symbolism of the waves on the shore is exactly what a blended family is all about. The "destination" can be anything from your backyard to some exotic tropical island. It is only limited by your imagination and budget. The internet is a wonderful source of ideas and an excellent starting place to find all types of beach-style wedding paraphernalia. You can find invitations, decorations, your wedding gown and everything you can imagine from the comfort of your home. You can arrange for accommodations, flowers, limo service, and a DJ anywhere in the world – it is easier than ever for you to do all these things for yourself.
So where do you start? How can you make beach wedding planning easier than ever?
1. Start with setting the wedding date and book the wedding date as early as possible. The wedding company will usually require a non-refundable deposit to reserve the date and time (More about choosing a wedding company later). All the other arrangements can be done once the date and time have been established.
2. Establish a budget. The next decisions are all probably based to some extent on your budget and you need to be as realistic as possible when deciding what you really can and really want to spend. Don't break the bank – you want to have a long and happy life together, not just one big day.
SIDENOTE:

3. Choose a location. If you are fortunate enough to live close to a beautiful beach that might work for you. Don't underestimate the appeal of being able to take advantage of the natural settings close to home. If you don't live near a beach, then research locations, but remember you will likely be happiest with a place you have been before. Always use extreme caution when attempting to plan a major event in your life somewhere you have never been before. When choosing a location, also be sure to think about your wedding photos. Is the location you are thinking about going to look good to the camera? These are the tangible reminders of your memories that you will have with you for years to come and you want them to be amazing.
Sidenote: If you plan to leave the country everyone will now need a passport to attend, another barrier which can be overcome, but of which you should be aware.
Many couples are now choosing to have their beach weddings at domestic locations to avoid the hassle of dealing with foreign marriage licenses and passport required travel. Florida, Texas, North Carolina, and California all come to mind with Florida's beaches a favorite of mine!
More related "choosing location" information is also included in other sections so read on!
4. Choose a wedding company. I have found that most brides have very definite ideas about the details of a wedding, and aren't willing to delegate these decisions to a wedding planner or consultant so you will likely only need a company to help with the logistics of the service and do set-up and tear-down for you. Don't spend money on expensive consultants when you really just need to rent some chairs!
Here are final some tips on wedding companies:
Again - Book the wedding date as early as possible. The wedding company will usually require a non-refundable deposit to reserve the date and time. All the other arrangements can be done once the date and time have been established.
Ask the wedding company if they have an alternate site in mind in case of inclement weather. The show must go on regardless of the weather, and we have done weddings out in the worst of conditions. You can't reschedule and the deposit is non refundable. So there must be some sort of plan B.
Avoid buying set plans with lots of bells and whistles. Stick to a company who isn't trying to sell you a lot of "stuff" you don't really need or want.
5. Next, you will have to think about your guest list. If you are thinking about a beach on Fiji, don't assume that everyone you want in your wedding party will also have the time or the money to go. The longer the guest list, and the more exotic the destination, the more cumbersome everything becomes. Try to keep the destination no farther than 1000 miles from home (Still drivable – painful but drivable) if you really want lots of friends and family to attend. If you actually are hoping for a small intimate affair, you may choose to go much farther from home.
A few words of wisdom from A Beachside Wedding tips on beach wedding planning: Arrange everything yourself. Why pay a wedding consultant to book a photographer, caterer, DJ, reception hall and everything else? You can do it yourself and save tons of money. You can hire harpists, violinist, and singers all over the internet. Most wedding companies would love to arrange all of this for you, it's what they do, but it's not cheap. It's okay to say no thank you and take care of things for yourself. Most brides are so involved in the decision making process that a consultant or planner doesn't really save them much time anyway.
Keep it simple! I'm sure you have heard the phrase "less is more". It is so true for a beach wedding. Resist the temptation to clutter up the beach with gazebos, chairs and extra paraphernalia. The most I would recommend is a simple decorated arbor. But even that is unnecessary in my opinion. Think of how your photographs will look. The prettiest pictures have simple backgrounds without including a bunch of "beach junk".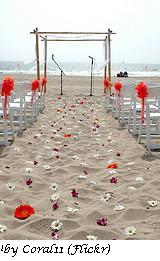 Any extra's that are worth the money? The symbolic release of doves and beautiful music are good ways to spend money that will enhance the experience in my opinion, as well as a good photographer to capture the moments for years to come.
Have a beach wedding story or pictures to share? Add your photos and tips to our beach wedding planning gallery for others to enjoy and learn.