Beach Wedding - Shoes Optional - Sign
by Amy
(Beach-Therapy.com)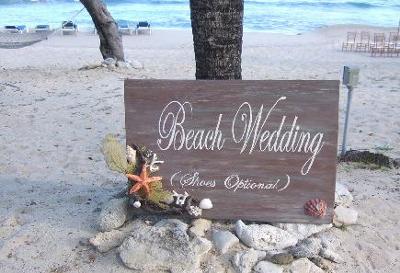 Beach Wedding Shoes Optional Sign
This simple sign adds a fun touch for guests as they approach a beach wedding. If the bride and groom are going barefoot for the ceremony it is only fair for guests to enjoy the sand in their toes too.


If you are flying to a more exotic location make the sign small enough to fit in a suitcase or use a piece of canvas cloth that can be rolled up and hung on a tree. You could use bamboo inserted into a sewn pocket to help the sign hang better.
Please feel free to offer other ideas for making a sign like this one by leaving a comment.
Have another idea? Submit your own by clicking on "Wedding Gallery" on the left.