Folly Beach South Carolina
The laid back surfer style atmosphere of Folly Beach South Carolina is immediately evident as you drive up the main drag to the small boardwalk area of surf shops and barefoot restaurants. Folly Beach is the closest beach to downtown Charleston and was an easy 20 minutes from hotel to feet in the sand. The small barrier island has much to offer beach lovers, but the locals know this beach area as the only beach where you can consume alcohol in public (no glass or cans on the beach, only plastic bottles and plastic cups, although bottles and cans are allowed in your cooler, just not on the beach- you get the picture.) Folly Beach is the party place per my taxi driver and the weekend scene is a local attraction not just a tourist attraction. If you are looking for a family atmosphere for the day look north the Isle of Palms or South to Kiawah Island.
That being said, a weekday morning visit was very quite and the wide open beach was sheltered by dunes covered in lovely sea grass.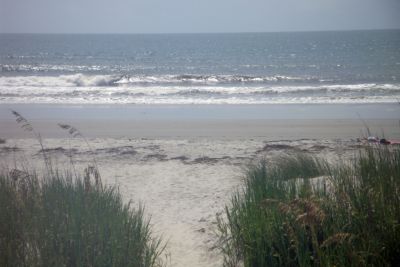 I imagine the party crowd was a work and the calm surf had not attracted a surf crowd yet. There are paid parking areas along the beach road but not many spaces so I am sure later in the day or over a weekend it would be a challenge to park. It also cost $1 an hour so bring some cash. I noticed many of the stores on the boardwalk square had "parking only for customers" signs and while parking along the road is allowed, it was mostly taken by locals and people staying on the island. A few of the paid parking areas also had outdoor showers to rinse off and one had a restroom, but they were not plentiful. Similar to other areas of South Carolina, there were small beach hotels and beach homes lining both sides of the beach road, but the beach was somewhat separated from most of these by the protective dunes.
There is a highly recommended Folly County Park at the end of the island and it was only $6 a day to park a car and play. They have nice amenities like restrooms and picnic tables, but I was warned to get there early on weekends, especially in summer because it gets really crowded. I didn't pay the $6 on this trip because I wanted to check out other area beaches and only spent a couple of hours walking around rather than an entire day.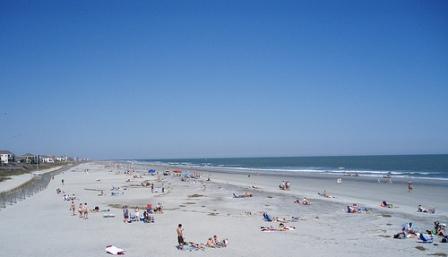 The sand was soft and light tan and the water was calm and emerald green the day I visited. This area does enjoy some surfing so the water gets deep and has significant waves depending on the weather and the currents. Folly Beach is a nice beach area but it was not my favorite Charleston vacation beach.