Eagle Beach Aruba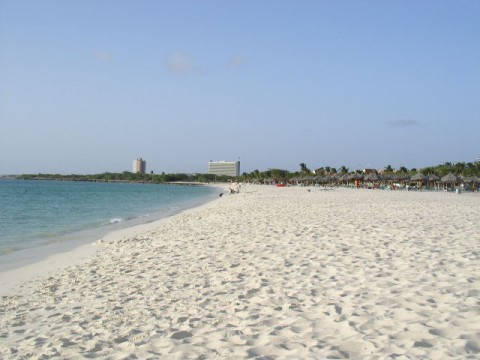 No contest, Eagle Beach, Aruba is the best of all the Aruba Beaches The wide, long stretch of sand slopes down to gently rolling waves in brilliant shades of turquoise. The relative quite is evidenced by the red and white fences surrounding sea turtle nesting sites up and down the beach. Eagle Beach is the beach of the low-rise hotel area. It does not provide the easy access to dining and shopping that the high-rise area does, but the quality of your beach-therapy will be much improved by spending time at Eagle Beach. The water here gets deeper, faster, and is therefore not as good for small children, but the miles and miles of sand are the perfect consistency for sand castles; an ideal trade-off for children who do not really care for the water much anyway. When I say perfect for sand-castles, I am not exaggerating. It is the type of sand that is just wet enough and firm enough to sculpt and we spent hours doing just that.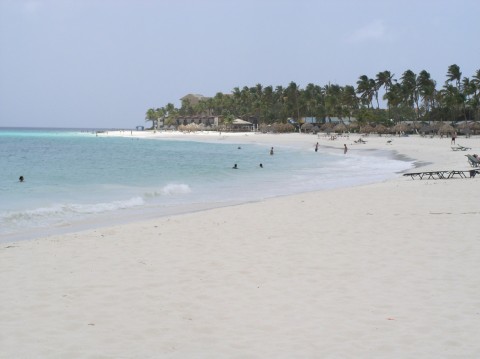 LOOKING NORTH ON EAGLE BEACH, ARUBA
The constant traffic of boats found at Palm Beach is not an issue on Eagle Beach, but this is the place to rent a Jet Ski so be warned. I did not find the Jet Ski's to be very intrusive and they were really contained to the area mostly in front of La Cabana.
What you will not find on Eagle Beach is natural shade. There are a few public huts, but they are far back from the water and near the road. The hotels along here provide cabanas for guest use and security patrols heavily to be sure only hotel guests use them. In front of La Cabana, the largest resort in this area, you can rent a cabana provided the hotel is not crowded with guests. We went in low season and this was an option, but during high season this option will be hit or miss.
I was impressed with the beauty and quality of Eagle Beach and if I ever returned to Aruba, I would choose the low-rise area over the high-rise area in a heartbeat. I can eat out and shop at home, I traveled all this way to spend time on the best beach I can find!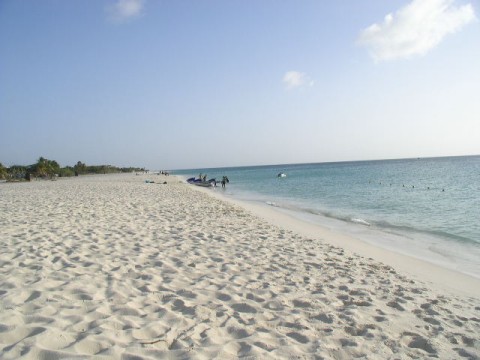 EAGLE BEACH, ARUBA LOOKING SOUTH
A gem of the low-rise area is a small restaurant called Tulips. It is located in the same compound as the MCV Eagle Beach Hotel, in a remodeled military compound. Both are bargains on this relatively expensive island. Tulips serves dinner starting at five and all seating is on a pleasant outdoor patio. The menu includes a filet steak meal under for under $20 American and a pitcher of heavenly homemade Sangria at $14 was enough for four adults to share. Soup, salad, and a seafood entrée was $12. (I feel like Rachel Ray on $40 a day as I write this). After dinning I took an opportunity to peak into one of the hotel rooms. It was small but clean and modern, with two single beds and a private bathroom. For about $50 a night, this would be an excellent stay for young people or the bargain minded. No bells or whistles, but not scary at all. The pool was very, very tiny, but clean. You are located directly across the street from Eagle Beach and the hotel will provide you with folding lounge chairs to use (you will have to carry them across the street).


If you are more interested in staying a resort in Aruba, but would also like to find a bargain, try some of these deals on eBAy. I have had success both with buying packages and with buying time-share weeks from owners. One thing to watch for is the crazy-low priced bargains that require you to attend a time-share presentation (read the entire listing and look at seller feedbacks). I have done these and survived (did not buy a time-share) but you should be very aware of this requirement in some, not all, of the deals you will see.