Marriott Aruba Private Island Beaches
The Renaissance Hotel and Casino is Marriott Aruba's upscale offering in downtown Oranjestadt ( The other Marriott Aruba Resorts, the Surf Club and Ocean Club, are on Palm Beach ). Because there is no beach front property in this area, patrons are treated to an exclusive private island available to Renaissance guests only. It certainly sounds inviting, but what is it really like?

You can also find the best deal, compare prices and read what other travelers have to say at TripAdvisor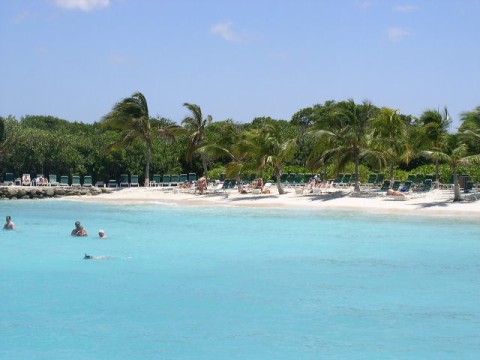 All of my pictures are of the adult beach because it was my favorite. The water was perfectly clear and blue and the palms provided shade for the sandy beach. This is certainly a spot to get a little beach therapy, especially if you take a walk out to one of the welcoming hammocks.
Unfortunately I do suspect this beach is very much man-made. The entry to the water here was also across a very rocky slope for about 10 yards. After that it was all sandy bottom but you will need water shoes to get out there. You should also be aware that it is a very tiny beach. It was not crowded when we went in June, but during high season I can see that becoming a problem. Snorkling out by the break rocks provided a bit of entertainment but nothing spectacular.
Sidenote: There is also a kid friendly version in another area of the island that we checked out. It was very similar but larger and filled with activity. There was no issue with a rocky entry on this beach.

The resort provides a tightly controlled ferry service from the hotels to the private island (each person must swipe an individual room key to board the ferry). The boats run on a very regular schedule and the 10 minute ride was very pleasant. The resort offers towels and chairs complementary and a wide variety of non-motorized water sports equipment for rental. There is wait staff service provided on the beach and a beachside restaurant to eat at.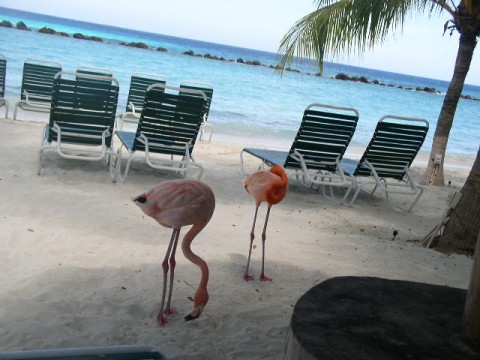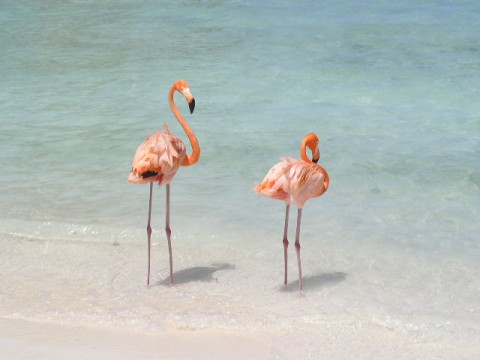 Have wondered where the Flamingos are on the island? Marriott Aruba's private island is the only place to see them. They are not native to the island and these are certainly tame as house pets. While we were lounging they wandered over to check out a raft and one decided to sit on it!


I spent awhile swinging in this hammock and it was heavenly. Nothing but ocean as far as the eye could see. There is also an opportunity to schedule a massage in a private area nearby. I'm sure it is worth the cost!