The Best Beach Towel Ever
My newest use for waffle weave is as the best beach towel! Not only do they take up less room in my beach bag and absorb tons of water for multiple uses, but sand doesn't have anywhere to stick to these! In traditional towels the sand gets pushed down into the terry loops and then it gets into my beach bag, and then it gets into my car...Okay, you get the picture. These towels just don't hold onto the sand like that, it's great!

The honeycomb pattern of waffle weave creates more surface area but takes up much less space than our traditional looped terry towels. You may be familiar with waffle weave in kitchen hand towels. This is because they stand up to lots of abuse and they absorb an unbelievable amount of water! Waffle weave also gets softer with each washing so the older it gets the more you love it.
The towel shown below is several years old and has been on many beach vacations with me.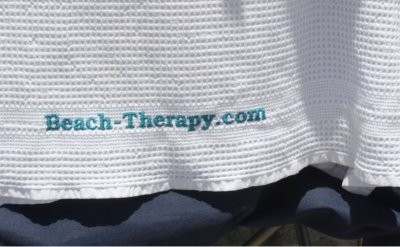 *Note Embroidered Towels are only available by special order.
Please contact me directly via my contact form for this service. All other towels may be purchased immediately through my eBay store shown below.
Environmentally Friendly Information
I chose these particular towels because they come from an environmentally friendly company. To quote: "Our cotton products are made from unbleached, undyed, chemical free cotton. Often cotton is sprayed with defoliants just before picking, so that mechanical harvesters can get a cleaner pick. Ours is not sprayed with defoliants, or subjected to chemical-processing during the weaving of the thread and fabric. Fabric is peroxide bleached , which is much gentler on the environment."

The best beach towel ever can be purchased in my eBay store by using one of the links shown below.
Towels are $24 plus shipping and oversize bath sheets are $32 plus shipping. Select size, color, and quantity. Checkout via Secure PayPal transaction.


---