Baby Beach Aruba
Baby Beach Aruba is a popular spot for visitors who would like to escape the crowds of Palm Beach. It is a 30 minute car ride from the high-rise resort area and can be reached by bus if you are willing to walk the last couple of miles. It is a lovely, sandy beach with shallow waters all the way out to the break. As its name implies, it is a fun place for young children and non-swimmers to wade in one to two feet of water for at least 50 yards out from the beach.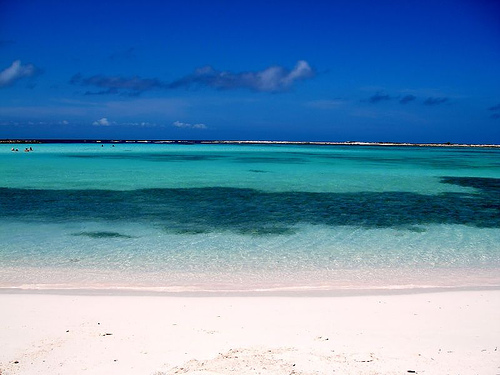 The water at Baby Beach Aruba is perfect azure blue and the sand is as clean and soft as the play yard sand we buy from Home Depot. There is a man-made break that provides shelter from the waves of the ocean so the water is very calm. The break also creates some very nice snorkeling in less than 5 feet of water; a nice practice area before jumping ship into open water with a snorkeling excursion. My husband is the avid snorkeler, and recommends the area in the man-made break that is actually open. It is quite a bit deeper at this point and provided a giant bowl of sea life and schools of fish to observe.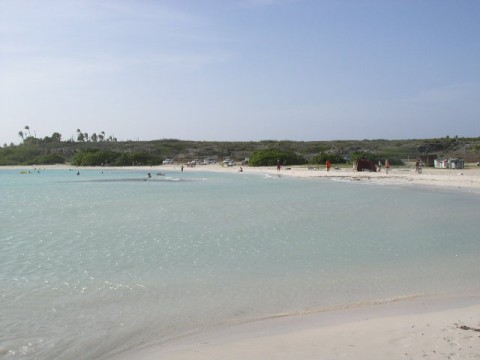 For about $30 a day you can rent shade huts with chairs and a raft. A word of caution – the beach may be quite crowded on days when a cruise ship is in port as this is one of the excursions offered to cruise ship passengers. You might want to ask around before planning your quiet day at Baby Beach to be sure you won't be sharing your escape with a couple hundred other tourists.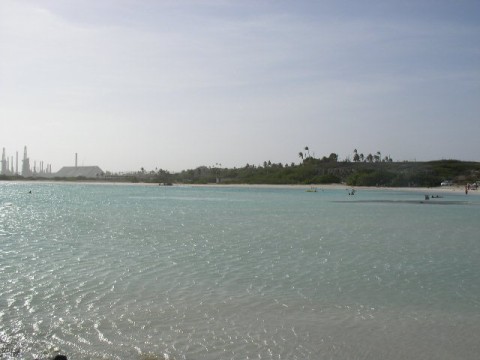 Baby Beach Aruba would be a favorite spot of mine if it were not for the background picture of the oil refinery. I had trouble blocking out the looming evidence of the petroleum industry. It just bugged me that this beautiful spot was far from untouched by human hands. Those of us who are truly seeking beach-therapy will find it hard not to compare this beach to the many other ones in the world that are just as nice and do not include this ugly reminder of our impact on the environment.